Niagara Bottling established its operations in Los Lunas, New Mexico in 2016. The facility includes 160,000 square feet of advanced manufacturing space for the production and distribution of purified drinking water. Niagara's direct capital investment was over $23 million in 2016 and has increased over the past several years.
Niagara's employment in Los Lunas currently stands at approximately 50 full-time positions, with 70% that live in Valencia County and over half in Los Lunas. All in compensation (regular pay, OT, bonuses, holidays, tuition, benefits, etc.), for all of 2022 is approximately $3.4M.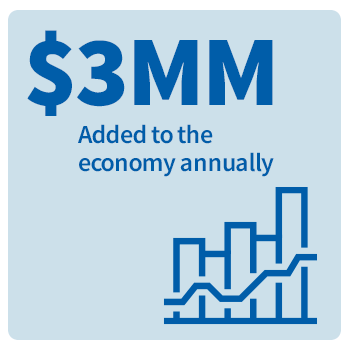 Source: Lightcast Impact Analysis Modeling – July 2022.
Who We Are
Niagara Bottling has been family owned and operated since 1963. Headquartered in Diamond Bar, California, Niagara operates bottling facilities throughout the U.S. and Mexico. As a leading beverage manufacturer in the U.S., Niagara Bottling works closely with some of the largest beverage brands, retailers, grocers, club, and convenience stores throughout the country. Niagara produces a variety of beverages including bottled water, sparkling, vitamin and flavored water, teas, sports drinks, ready-to-drink coffee, protein drinks, and non-dairy milk products.
Niagara Company Overview
Learn about Niagara's history and how we became one of the most innovative beverage companies in the world.
Watch Now
Our Commitment to Community
At Niagara, we are committed to making a positive impact on society and our communities. As part of this commitment, our local teams place an emphasis on supporting areas of education, emergency need, community beautification, environment, and health and wellness. We are proud to partner with community leaders and charitable organizations that are making a meaningful difference in the world and in the areas where our facilities are located.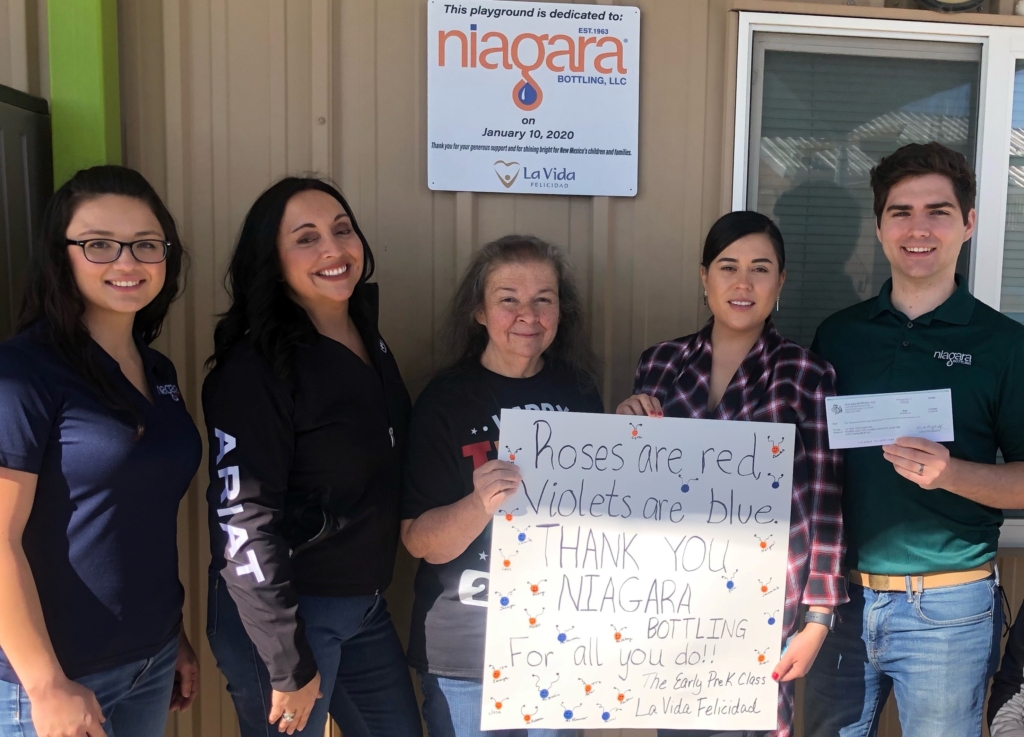 Continuing to Support Child Care Center
Niagara continues to support La Vida Felicidad, by donating $10,000 to help improve the playground equipment at their childcare center. The children now have a new, safe place to play!
Family Fest Fun
The Calvary Chapel of Rio Grande Valley hosted a free Family Fest for local community members. There was music, savory food, attractions and a jumper zone for the kids to enjoy. Niagara donated 120 cases of bottled water to support the event and kept everyone hydrated.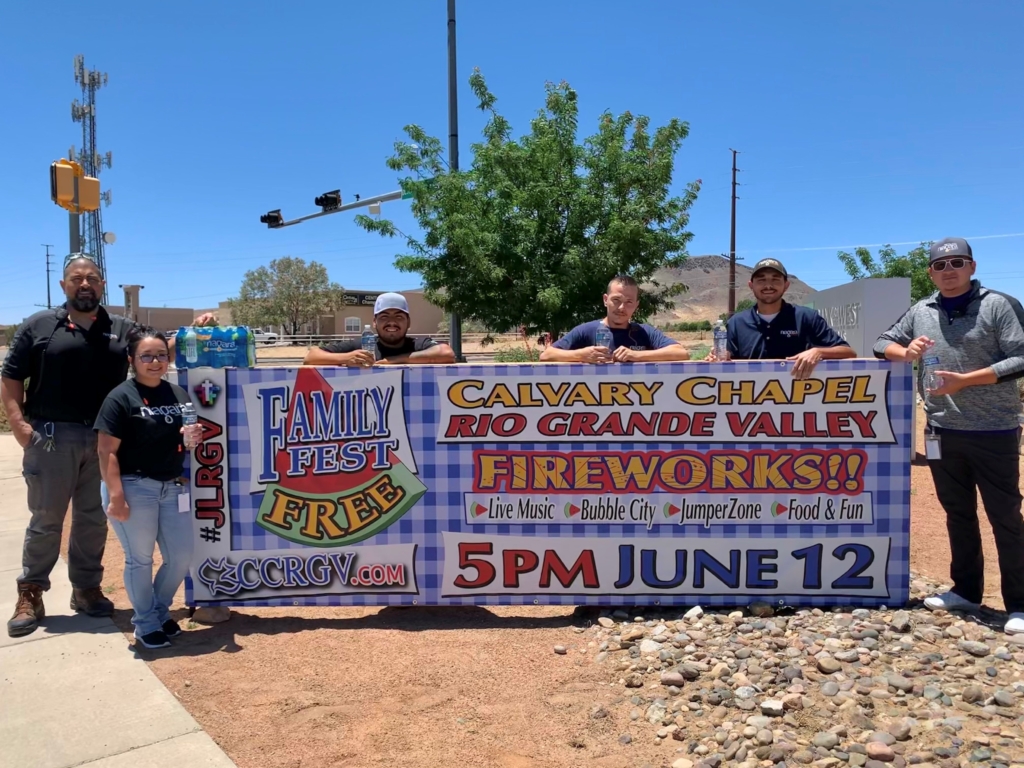 ---
Some of the local organizations our Team Members regularly donate their time and resources to include:
Movies Under the Stars – El Cerro Community Center
Valencia County Clean Up
Valenica County Business Incubator
Mid-West New Mexico Community Action Program
Global Career Fair – (part of the VIII World Engineering Education Forum) – Albuquerque Convention Center
Los Lunas Schools district
Leadership New Mexico
All for Animal's Inc. – Los Lunas, NM
La Vida Felicidad Partnership
Niagara regularly donates water to groups within Los Lunas and Valencia County. Niagara is committed to supporting qualifying local organizations that meet specific guidelines. Donation commitments are subject to product availability, and specific eligibility criteria. Please click on the "Request a Donation" link below for more information.
Belen Football
Belen Wrestling Program
Belen Basketball Program
Albuquerque International Balloon Festival
Annual Belen Matanza
Leadership New Mexico Donation
Los Lunas Fire Department
Los Lunas Police Department
Los Lunas Tiger Band Boosters
Los Lunas Tigerettes
Los Lunas La Vida Felicidad
Los Lunas Schools Golf Tournament
Moberg Golf Tournament
Mudd Volleyball Tournament & Sponsorship
NM Tech Career Fair
NM Tech Golf Tournament
NM Workforce Connection
Our Lady of Belen Church
Tome Elementary
UNM Valencia Scholarship Foundation
 Our Focus on Sustainability
Niagara is committed to responsible resource usage and integrating sustainability into every aspect of our business. Niagara not only supports environmental initiatives, but also innovation and leadership in our product, packaging, and manufacturing while promoting consumer awareness and action on sustainability issues. Here's how Niagara is prioritizing sustainability:
Water Stewardship: A standard Niagara facility uses less water to produce its products than it takes to keep a few golf courses green. Niagara typically pays volumetric fees for the water used and millions in taxes and fees to municipal systems that enable us to maintain and improve our infrastructure.
Packaging Efficiency: Part of Niagara's success is from using less plastic for our bottles than our competitors.
Minimizing Environmental Impact: Niagara PET bottles have a lower environmental impact across most impact categories when compared to other common beverage and water packaging types. Our half-liter bottles have an embodied carbon footprint that is substantially below the U.S. average.
Recycling Infrastructure and Education: Niagara supports recycling education through International Bottled Water Association's "Put it in the Bin" campaign.
---
Contact Our Economic Development Team
Our team's mission is to promote and advance the strategic goals of the company through relationship building and engagement with public policymakers, government officials, and community leaders.