Eco-Air Package®
As innovators, Niagara is always looking for ways to improve through technological advancements and processes that help us reduce our impact on the environment.
Our Eco-Air Package® eliminates the need for a cardboard tray completely and the cases take up less pallet space which allows us to ship more water per order and helps us reduce our CO₂ emissions. The Eco-Air case wrap is also recyclable via Store Drop Off.
---
Eco-Air Bottle®
Niagara has reduced the amount of plastic in our Eco-Air® Bottle by over 60%*. Our bottle is lightweight and recyclable**. Because of the reduced weight in our plastic, we are able to:
Transport more water per truck load which reduces CO2 emissions
Use less plastic per bottle which helps conserve valuable resources
Since 2009 Niagara has reduced the carbon footprint of its bottles by 59% through innovations in design, lightweighting and packaging.
In addition, we've reduced our label size and bottle cap size to further reduce our material use.
*On average vs. our original 1998 500mL bottle. **Recyclable bottle and cap. Excludes label and outer wrap, which may not be recyclable in your area.
Recycled Plastic Utilization
Increasing our recycled content usage has driven a 12% average reduction in greenhouse gas (GHG) impact per bottle.
We are currently working with a broad set of partners and government to increase the amount of recycled content available so that we can use even more!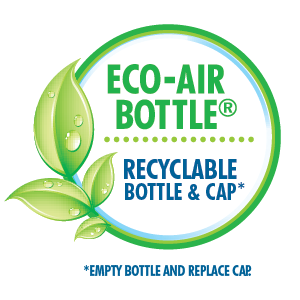 ---
A PET bottle provides the smallest ratio of packaging material to product, while providing superior protection and safety. All of our bottles and caps are recyclable** with no BPA added.