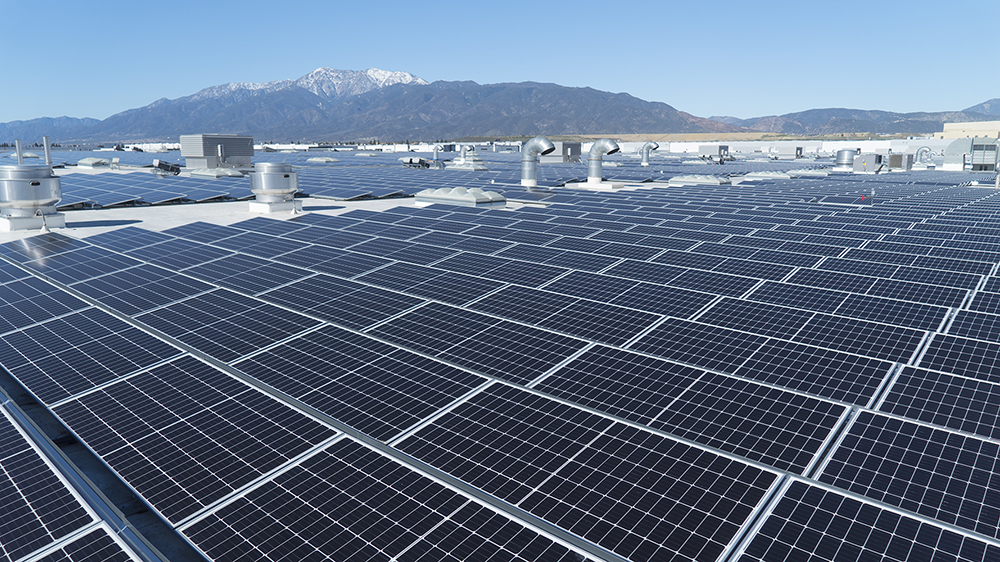 Solar panels at our Rialto, CA facility
The solar panel systems at our Rialto, CA and San Antonio, TX plants are now operational. They now provide up to 20% of the energy required and will further lower our CO2 emissions. Our Bloomfield, CT plant will also have solar power towards the end of 2022.
Four of our Texas plants have been running on 100% renewable energy since July 2021! The power comes from a local wind farm. It will continue to provide 100% clean energy for the next 10 years.
Niagara leads the beverage industry in energy efficiency by:

Utilizing industry leading bottling equipment, laser-guided vehicles and automatic storage and retrieval systems to reduce emissions which create a healthy and safe environment for our Team Members
Using alternative energy sources like wind power and expanding are usage of solar into our operations
Incorporating skylights and automated lighting to decrease the energy used to power and light all of our plants
Reducing the energy needed to transform plastic into formed bottles
Technologies in lighting (LED) to reduce heat loads and electricity use while creating a safer and more productive work environment
Managing our carbon footprint through the use of recycled plastic (rPET)
Our 0.5L bottles have an embodied carbon footprint that is 46% below the U.S. average resulting in savings of 1.7 pounds of CO2 per pound of rPET produced.