Our Culture
Our culture and people are what set us apart and has enabled our success for more than 50 years.
It's what makes us uniquely Niagara. Niagara is a fast-paced, innovative company with a work hard, play hard environment. At Niagara, we do whatever it takes to get the job done. We look for passionate Team Members who take pride in what they do and contribute every day, whether it's finding ways to improve our operations, make an impact in our sustainability efforts, design products, or better service our customers.
Niagara LIFE
Every level of our organization needs talented and dedicated Team Members to continue growing the success of our company. At Niagara, our Team Members: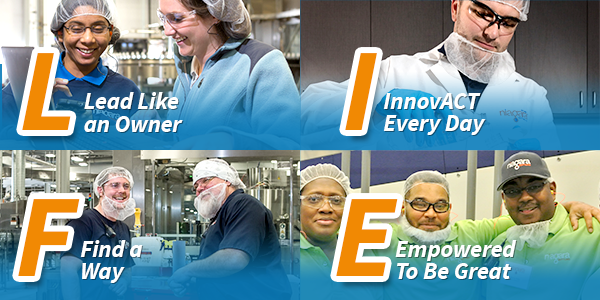 Lead Like an Owner
We think and act like owners, treating every decision as if we owned the company.
InnovACT Every Day
We not only innovate, but we also put new ideas into action quickly.
Find a Way
We overcome the odds and accomplish feats that may seem impossible to others.
Empowered To Be Great
We make an impact every day through driving action and sharing ideas.